Working Anatolian Shepherds
​from imported bloodlines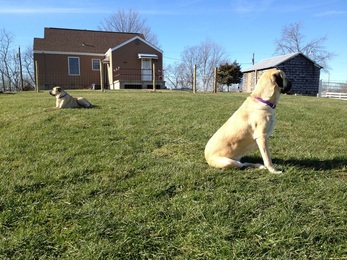 Our first and original Anatolians from quite a few years ago now.


Anatolian Shepherds are livestock guardian dogs that originate from Turkey. They are a very independent breed and are extremely devoted to their charges. Anatolians, by nature are very suspicious of strangers. Our dogs' charges include the humans, property, sheep, goats, cows, poultry, and whatever else they deem necessary. These are amazing dogs, well suited for their jobs as protectors.
We currently have 5 adult breeding Anatolians here and various amounts of puppies depending on when we have litters. We often raise out the most promising pups of a litter for further training, OFA testing, and more for potential additions to our breeding program. Sometimes these older pups are available for purchase if they don't meet our stringent testing to be accepting into our breeding program and are sold as dependable working dogs. Each breeding dog has their own page for further information. All of our breeding dogs are AKC registered, evaluated for proper conformation, and have health testing done through OFA for hips, elbows, Embark testing, and some have Pennhip. They are temperament tested and working ability tested as well to ensure that we are breeding the best dogs possible.
​
Our dogs are separated into teams of 2-3. Two sets are with 2 different flocks of sheep and and the puppies are raised with the poultry, bottle calves, and a few carefully selected sheep and goats who are excellent puppy trainers. All the dogs are exposed to poultry at any given time due to the fact that our poultry free-ranges and can enter any field at any time. Our dogs are well socialized with strangers that we invite. If we are not present they will not allow a stranger to enter. They are wonderful with children. The dogs are well-bonded to any animal we have here. They are quick to tell us if something is amiss anywhere on the property even if it's not in their current field. I've been alerted to ewes in labor, babies separated from mom, a chicken stuck somewhere, and so much more. I've learned to always listen to these dogs. They take great pride in their life's work and if they can't help one of their charges they know that we usually can and come get us.

Please take your time to learn more about our dogs, current and planned litters, as well as the history of the Anatolian breed and our approval process to obtain a puppy.

​We look forward to talking with you more.

​




---